November, 2020
When a tub of popcorn can run nearly $10, renting out an entire theater for $99 seems like a steal. For AMC Theatres, the mega-chain that recently introduced the private screening plan as a Covid-era concession to safety and shrinking audiences, it's more a desperate ploy to keep the lights on as the American megaplexes face the prospect of a final showing.
Recent coronavirus case spikes, new lockdowns and the expectation of minimal family outings during the holidays has turned a year of bad news for the country's cinemas into an outlook that's simply bleak. In early October, when Regal Cinemas shuttered all 500-plus locations nationwide, that darkened more than 7,000 screens alone. The industry has already seen a cinema cull in the U.S., per the National Association of Theatre Owners, with the number of movie theaters shrinking from around 7,200 in 1996 to roughly 5,500 as of late 2019. But that may just be a preview. John Fithian, head of the National Association of Theatre Owners, told Varietythat unless Congress passes the Save Our Stages Act, a bipartisan push to support concert venues and theaters that have seen their businesses decimated by Covid, "probably around 70% of our mid- and small-sized memberswill either confront bankruptcy reorganization or the likelihood of going out of business entirely by sometime in January."
In past economic downturns, theater owners tried stunts like "dish nights" — giving away different pieces of a table setting, such as a saucer or salad plate, to lure Great Depression patrons. That probably won't work this time, leaving a lot of moviegoing real estate in need of a reboot.
There's a long tradition of adaptive reuse when it comes to the older generation of neighborhood moviehouses, many of which died off in the second half of the 20th century as new suburban multiplexes appeared. These smaller facilities often see a second life as community theaters, churches, gyms and bookstores. The electric vehicle startup Rivian recently announced plans to turn a 1930s-era Laguna Beach theater into an elegant showroom.
But modern multiplexes can be poor candidates for adaptive reuse, theater owners and real-estate experts told the Wall Street Journal, because of their sloped floors and subdivided spaces. That's especially true at a time when the malls they are often attached to are struggling reinvent themselves. Closed theaters may fare better on the real estate market as available land in need of a demolition; a shuttered Regal Theater in North Charleston, South Carolina, for example, was simply demolished, with plans to build an apartment building in its place.
Some developers do see sequel potential in modern movie theaters, though. Last year, PMB, a development firm focused on the medical field, turned a 1980's multiplex in Goodyear, Arizona, into a collection of medical offices. And Walter Crutchfield, co-founder and partner of the Arizona development firm Vintage Partners, turned a Flagstaff movie theater into perhaps the country's most creative department of motor vehicles.
The nine-screen theater, part of the Harkins chain, reopened in 2016 as a 72,000-square foot, two-story Arizona Department of Transportation headquarters and Motor Vehicles Division office. Reuse presented multiple challenges, such as cutting windows into the concrete walls to provide more natural light. But the end result, which split the high-ceilinged theaters into two stories with a mezzanine floor, speaks for itself, Crutchfield says.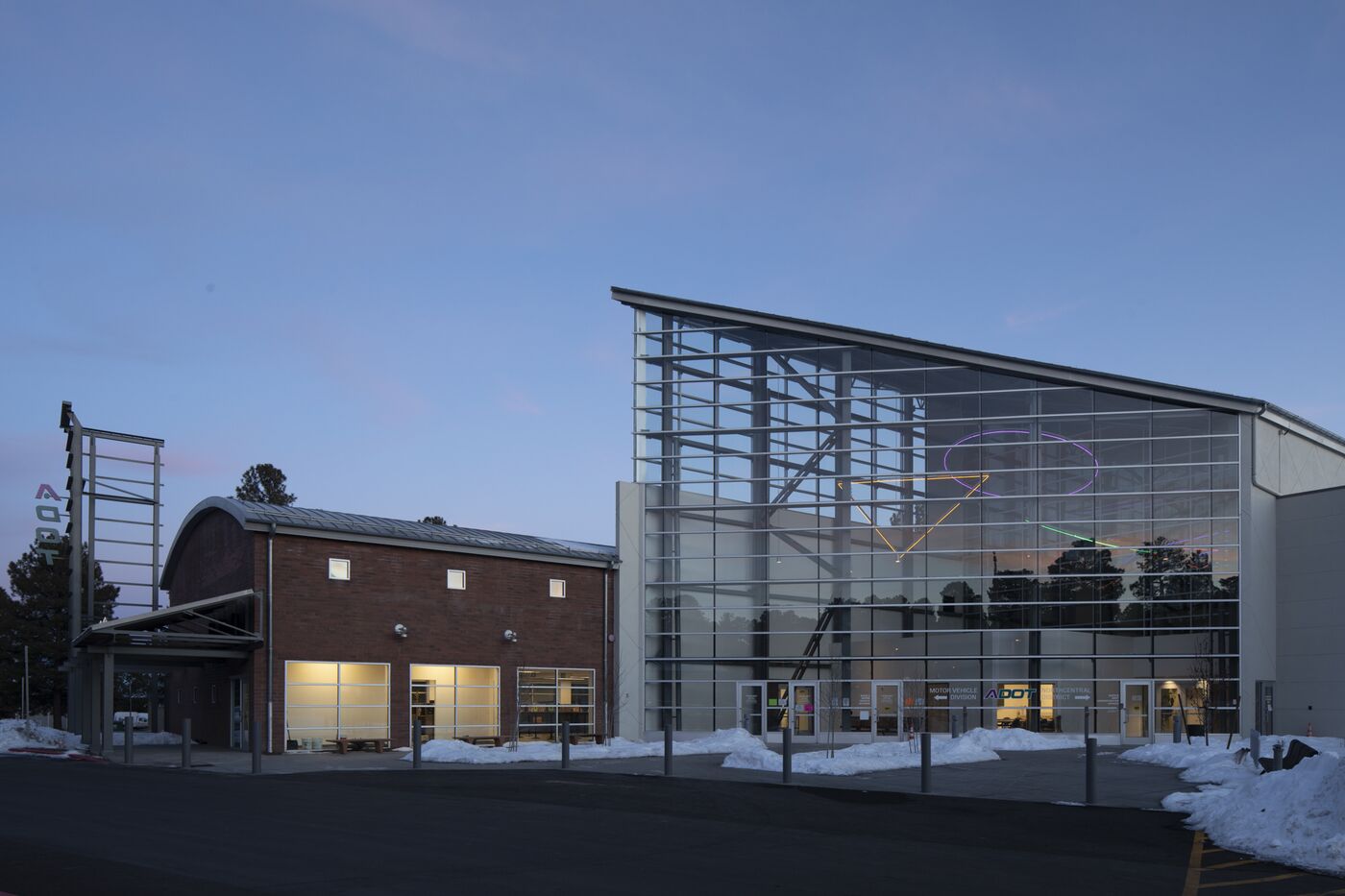 "It was a great project because the poured-in-place cement building was designed for public access, so it gives you a pretty cool canvas," he says. "There's a huge four-story atrium. Now 200 workers, who used to be spread over six locations, can collaborate together in a brand-new office." They even kept some neon lighting fixtures and the lobby popcorn machines for office snacks.
He says that contemporary movie theaters offer plenty of valid reuse potential — prime locations with lots of empty square footage — if only developers get creative.
"If you can make $5 million and do something that's repeatable and easy, or make $1 million doing something that's incredibly complicated, essentially building a battleship inside of a bottle, how many people are going to sign up for the later?" Crutchfield says.
On the south side of Pittsburgh, another theater-to-office space is in the works, set to open in May or June of 2021. New York City-based SomeraRoad Partners will turn a shuttered theater into a mixed-use development that includes retail, apartments and the aptly titled Box Office workspace.
Ian Ross, a founder and principal at SomeraRoad, says the project started pre-Covid, when they looked at the potential of redeveloping SouthSide Works, a retail site close to the city's growing tech scene. Ross and his partners looked at options for upgrading the SouthSide Works Cinema, and decided a new movie theater wasn't "the highest and best use of the land."
"We could have invested $5 million in it, but does it make sense investing in what we think is a dying industry?" he says. "I wouldn't say we called the current demise of movie theaters, but in retrospect, we sort of shut it down before it shut itself down."
While the theater did get foot traffic on weekends, it doesn't create the vibrancy possible from alternative uses. Ultimately, the developers settled on office space that will float above the rest of the development, designed by architecture firm HOK, with tech and creative tenants in mind. Ross would like to say this concept could be reused for all closed theaters, but he and his partners don't think it's that simple. He sees this example working because it was already a distressed property that was incredibly structurally unique, with a strong three-story steel podium that could be repurposed.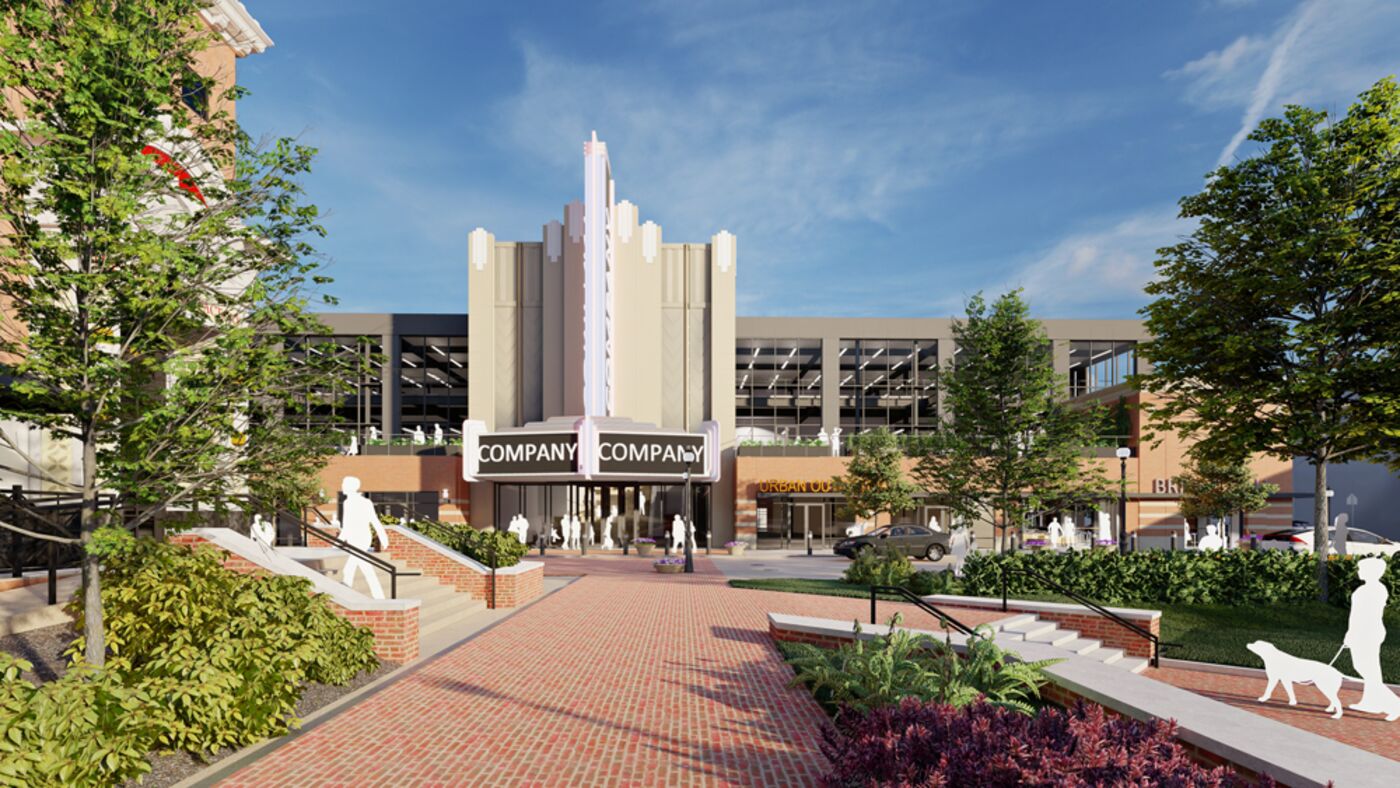 Shuttered cinemas have similar reuse possibilities as the neighboring big box stores across the mall parking lot, says K.C. Conway, chief economist with the CCIM Institute, a professional accreditation group for commercial real estate executives. Hard hit by the rise of online retail, many of those spaces are finding use as e-commerce warehouses and fulfillment centers.
The key is big and bulky items, Conway says: As online shopping continues to expand, last-mile delivery of oversized goods has become a tricky, and expensive, problem for retailers, especially home goods stores. Enter empty movie theaters: Their 24-foot-or-more ceiling heights offer more headroom than typical 18-foot-tall department stores, they're often in dense suburbs near main commercial arteries, and they have upgraded HVAC and electrical systems. Those with flat floors and stadium seating can easily be gutted to make room for storage. Many even have special light industrial zoning, so unlike, say, a purely commercial property such a Best Buy, they don't require time-consuming rezoning.
Big players in home goods and contracting are already looking at the potential of filling dead-mall megaplexes with pallets of lawnmowers and drywall, says Conway. The price is also right: New construction for last-mile warehouses can run between more than $140 a square foot in expensive markets. Theaters bought for a steal might go for $50 a square foot, and require just $25 a foot to retrofit for logistics, Conway estimates.
"People have been slow to figure out the full potential of adaptive reuse," says Conway. "Adaptive reuse helps by adding more affordable housing, reducing blight, gets old stores back on the property tax rolls, and it's good for the environment. Lots of boxes get checked. Capital just needs to be less afraid, and the government needs to be more flexible."
As the virus resurges and films get streaming-only premieres, the post-vaccine fate of the movie business remains murky; it may be months or years before moviegoers feel like packing into theaters for the latest blockbuster. Amazon was rumored to be looking at scooping up theaters earlier this year. Ross at SomeraRoad doesn't think the industry is going to disappear, by any means, but it's due for a correction; he thinks the bottom 20% of theaters — those already struggling — may go bankrupt and get repurposed post-pandemic.
Crutchfield predicts a higher percentage of cinemas will go dark than most other asset classes, such as offices, whether it's the pandemic or streamers like Netflix that force them to close shop. And he's confident that creative uses for these spaces will be found.
"I just don't know the life expectancy of the sit-down movie experience," he says. "But the assets, and opportunities, are there."