October 2020
This summer, Los Angeles Mayor Eric Garcetti found himself generating international headlines for cracking down on a house party. On Aug. 19, city officials disconnected utilities at the Hollywood Hills home of Bryce Hall, Noah Beck and Blake Gray, young stars on the video platform TikTok who had turned their residence — a rented 8,500-square foot mansion known as the Sway House — into a "nightclub in the hills."
The Sway House stood accused of hosting parties "in flagrant violation of our public health orders" during a pandemic. Never mind that some of the footage that generated outrage — an Instagram video showing shoulder-to-shoulder crowds drinking and dancing on tables — was shot at a blowout party at a different home, in Encino, roughly 15 miles west of the Hollywood Hills. The Sway House had already established a reputation for bad behavior among its neighbors, creating a "party war zone."
At a press conference announcing charges, city attorney Mike Feuer said, "We allege that in many cases these parties and the party houses associated with them have hijacked the quality of life for neighbors in the affected communities. If you have a combined 19 million followers on TikTok, in the middle of a public health crisis you should be modeling great behavior, best practices, for all of us, rather than brazenly violating the law and then posting videos about it, as we allege happened here."
Garcetti's crackdown is indicative of how the contentious arrival of a relatively new kind of celebrity real estate has become tangled up in an older phenomenon: LA's famously disruptive party house scene. During coronavirus lockdowns, rented mansions have been serving as ad-hoc nightclubs for illegal gatherings, creating tension, anxiety, and sometimes violence in affluent neighborhoods. At one early August party, a woman at a massive Hollywood Hills party was shot and killed, bringing on a pledge from city leaders to boost party house enforcement.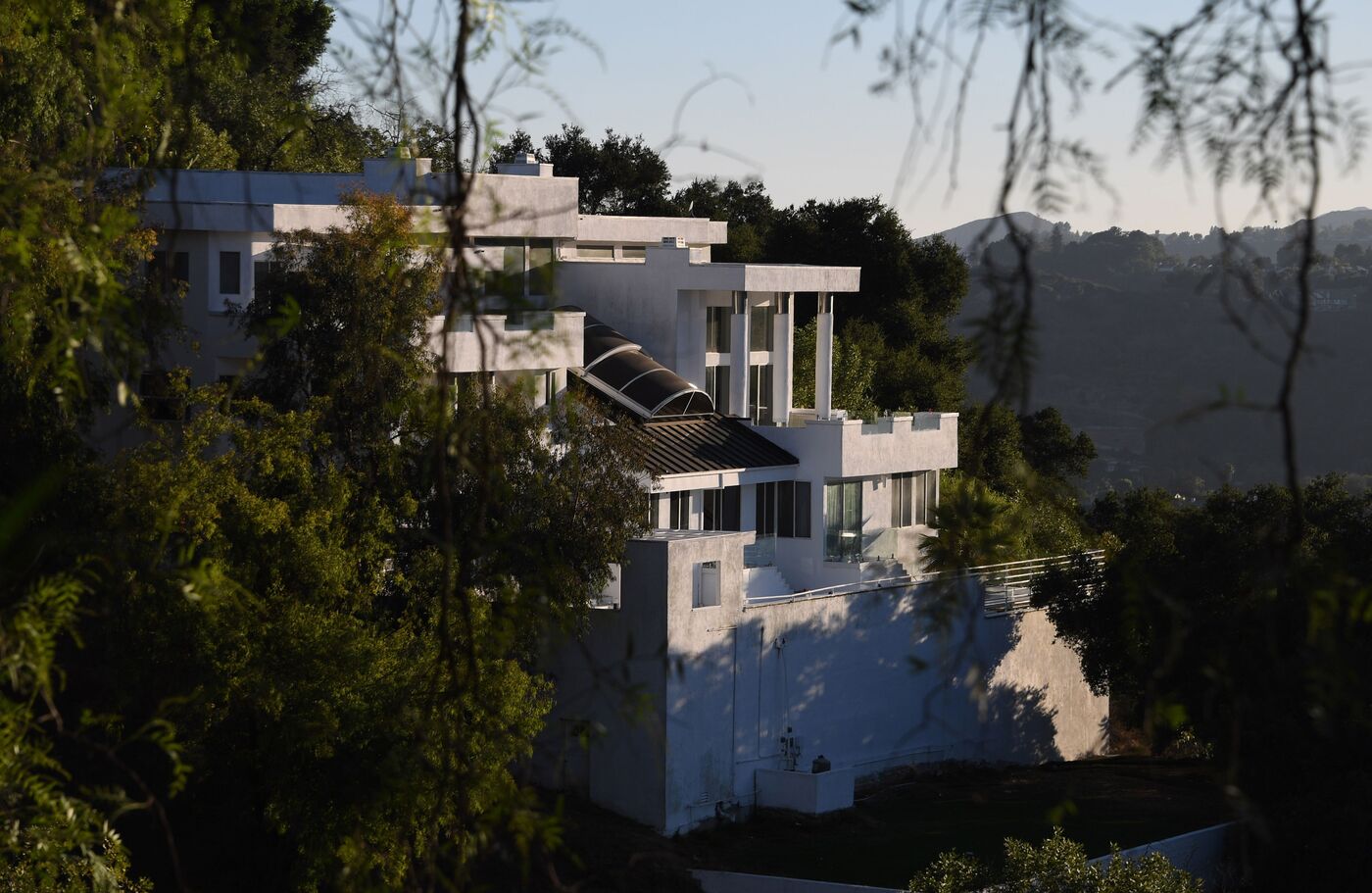 That pledge is focusing attention on high-end homes — variously called TikTok mansions, content houses, or collab houses — that are rented by talent management groups and filled with young social media stars and creators. The homes are used as backdrops for the video content that social media influencers churn out, and, as the Sway House incident in August shows, as headquarters for their antics.
Collab houses emerged in early 2020, growing with the continued rise of the video app TikTok. "Call it the boy-band model but for Gen Z," Rebecca Jennings recently wrote in Vox, "where stars leverage each other's burgeoning fame against the backdrop of multimillion-dollar homes." As chronicled by technology and business journalists like Taylor Lorenz and Amanda Perrelli, early examples like Hype House have spawned a host of newcomers, including the Clubhouse and Cabin Six (focused on LGBT creators).
It's not new or exclusive to the TikTok platform; stars of YouTube and Vine established their own such setups, including 02L Mansion and 1600 Vine Street. Back in 2017, Vine and YouTube celebrity Jake Paul famously posted the location of the Team 10 House in Hollywood online, which was flooded with fans. The trend has also migrated beyond Los Angeles: A sextet of UK influencers has occupied a lavish English country home and dubbed it the Wave House, the Daily Mail recently reported.
James McClain, editor-at-large for the celebrity home site Dirt, sees collab houses as just the latest example of the intermingling of entertainment and real estate in Southern California — from the star mansions of Hollywood's Golden Age to MTV Cribs. While Dirt tracks housing sales for all manner of celebrities, it's the influencers that are getting the most attention now. "Jeffree Star's house was the biggest story for us in terms of traffic," he says, referring to a popular YouTuber and makeup artist. "The concept of fame has changed for a new era."
Collab houses may be new, but the market for these types of homes in Los Angeles isn't. According to real estate agents who have sold to these types of clients, or work with high-end rental homes, many of them are spec homes, built in expensive areas with beautiful properties with lots of land: Burbank (FaZe Clan), Beverly Hills (Clubhouse), Bel Air (the Sway House) and Hollywood. Investors had previously made money on these properties by renting them for one-off events or film, TV, or commercial shoots; more recently, Airbnb and short-term rental sites provided another revenue option.
If you are in the market for a TikTok mansion, you'll be shopping for a property with "awe factors" like an elevator, pool and a great view — features that lend themselves to the medium and can become video backdrops. "It should have all the amenities you'd want if you're spending $30,000 to $50,000 a month, including plenty of space and parking, large kitchens and common areas, and lots of bedrooms," says Josh Picker, an agent at Douglas Elliman. "You're basically paying for a place you don't need to leave."
Michael Senzer, vice-president and head of business development at TalentX, which represents the Sway House crew, says he wants properties that give the talent a beautiful place to live and "take all the thinking out of their daily lives so they can focus on what they do best — monetize and strategically grow themselves."
Same goes with the interiors. The Sway House was outfitted with items picked out by the TikTokers or donated by brands hoping to be tagged in a video.
Sally Forster Jones, a Compass agent who has worked on rentals for location scouts and YouTubers, says it can be difficult to find properties open to the number of people, and parties, that come with these content houses. The right properties can be rented via short-term rental sites, or more formal, year-long leases. Stars often pay their rent, especially in homes sponsored by management companies or brands, by producing a set number of social videos every week "as a form of in-kind rent," according to Lorenz of the New York Times.
Young stars living together amid the glitz and glamour of the entertainment industry in Los Angeles may be a concept as old as the entertainment industry. But for residents of many of the wealthy Los Angeles neighborhoods where this type of real estate exists, having a crew of selfie-shooting teen influencers move in next door can be a major headache.
Kristen Stavola runs We Are Laurel Canyon, a community group for the affluent hillside neighborhood. She says that these management companies, who are "fronting for YouTubers, Instagrammers, and TikTokkers," have caused numerous issues.
Laurel Canyon, often called party canyon, has drawn high-living celebrities since the 1960s.
"We love our heritage up here and celebrate it," says Stavola. "We're all about people having a good time." But "social media has put it on steroids." Residents are weary of late-night noise and traffic jams of Uber or Lyft vehicles on the narrow, winding streets. The blind curves and dirt roads near more remote locations don't mix with inebriated drivers. "We're anti-party house when the neighborhoods, hillside and wildlife are being threatened," she says. "Anybody running a party house during Covid is incredibly reckless."
Some collab homes went undetected for months, but when the coronavirus pandemic arrived and more people began working from home in March and April, it became hard not to notice the sound of live DJs playing in the middle of an afternoon. (Other influencer collectives do not lay low: Hype House, in Mount Olympus in the Hollywood Hills adjacent to Laurel Canyon, had a signature painted school bus parked in front of the entrance.) "Earlier this year, some genius at a management firm said, 'Let's put these kids together in a Big Brother-type setting and have them earn their rent with posts,'" Stavola says. "The problem with collab houses is that it's encouraging the problems we've been trying to curb for years. It's actually monetizing them. It's turned homes into businesses, whether or not they're having parties there every night. You've turned a nice house into a dorm or frat house."
Talent management groups Influences and FlipMgmt didn't respond to CityLab, and TalentX didn't want to talk about recent incidents involving the influencers at their collab house. "It's a level of accountability they have to have on themselves," Michael Gruen, a founder of TalentX, told the New York Times in response to questions about their talent hosting and participating in parties.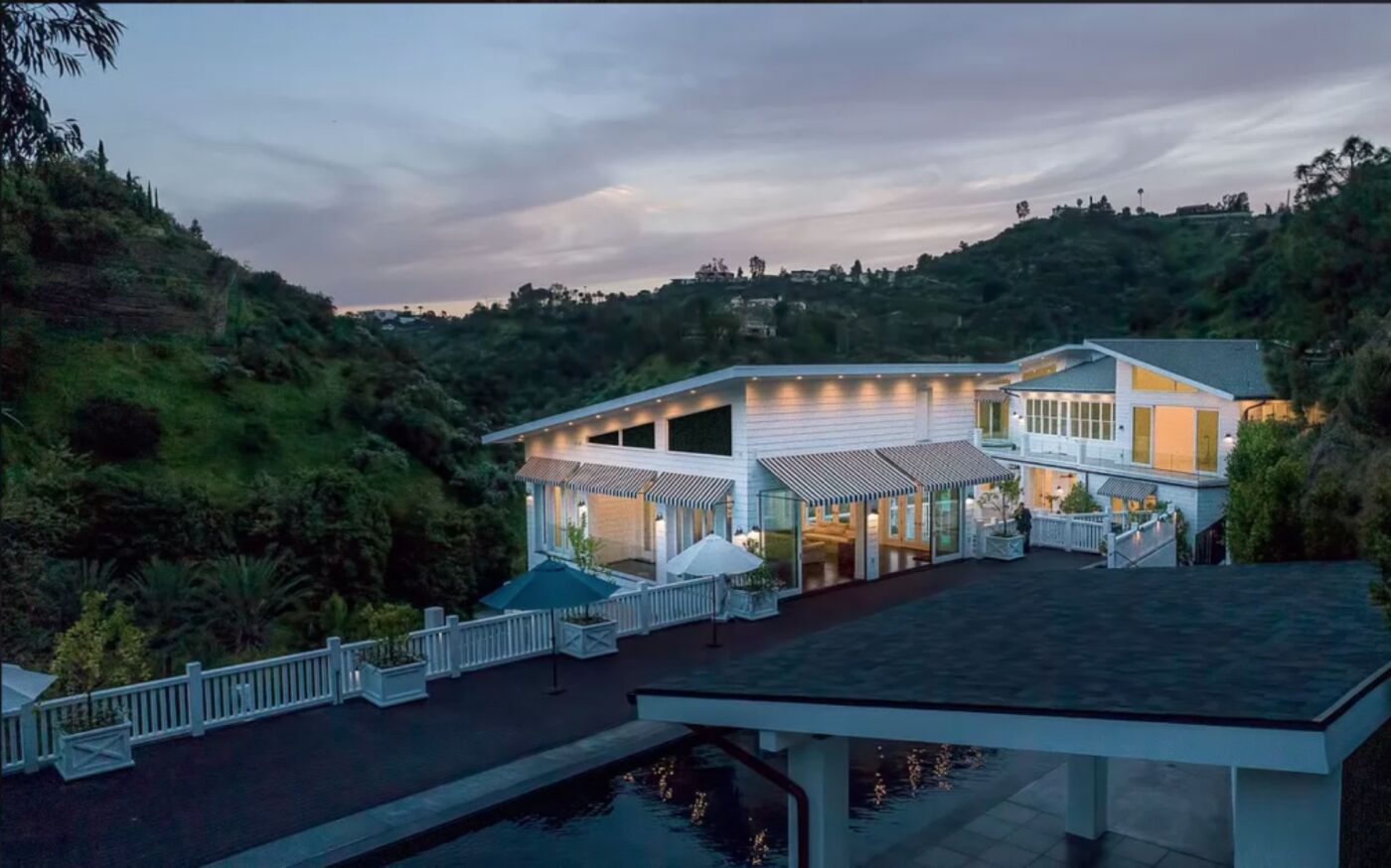 Dirt's McClain argues that conflating the rise of collab houses with the broader party house issue misses some important distinctions. "These kids, and young adults, see what they're doing as a legitimate business," he says. "The whole reason they enter into these collaborations is because they have sponsors or investors behind them. They don't want to do anything to mess up their future earnings, or get in the way of how they earn a living. It's a new phenomenon and a lot of people don't understand this."
Picker also doesn't think his clients should be blamed for the problematic party houses; companies are fronting big money for content and the talent is on the line if something goes wrong. Many influencers have apologized for large parties, and even called out those organizing such events. "Just because they're in their early twenties doesn't necessarily mean they're causing the problems," he says.
Still, it's not surprising that Angelenos would connect influencers with the party house scene. Several social media stars have indeed been liberal with social distancing practices and thrown Covid-noncompliant events this summer, with some even arguing that it's part of their job to entertain (and facing few consequences from sponsors). And the Hype House was established in a Hollywood Hills home that already had a notorious pre-TikTok reputation for hosting such events.
Numerous attempts have been made to crack down. Los Angeles signed a Party House ordinance in 2018, and on Aug. 4, issued a warning about large parties held during the pandemic. Airbnb issued a global party ban on Aug. 16, saying that "we do not want that type of business, and anyone engaged in or allowing that behavior does not belong on our platform." In addition, the company launched a city portal to help track nuisance properties, and banned one-night stays over Halloween weekend.
One of Stavola's Laurel Canyon neighbors (who wishes to remain anonymous), says his family has been traumatized by a party house incident next door. Over the long 4th of July weekend this summer, a group of young men rented the home next door and threw a series of parties, including shooting mortar-type fireworks over a tinder-dry hillside. When the neighbor contacted Stavola, who reached out to Airbnb about the issue, the service canceled the booking and later banned the guest who reserved the home from making future bookings, but the guests remained (it's up to the property owner to call law enforcement or evict the short-term tenant). Over the next few weeks, the three renters would occasionally taunt the neighbor and his wife and young child, spitting at them and calling them "Karens."
"It was disheartening," the neighbor said. "Ultimately, the sites can do what you request, and if the owner doesn't kick them out, they may be here for another two weeks. My wife and I are both lawyers, and this was crazy to us."
Stavola says that despite more vigilance from Airbnb and local officials, she fears the issue isn't going away. "As long as the clubs are closed in Hollywood, this won't stop."
The collab house trend doesn't appear to be slowing down either. Even during the coronavirus pandemic, more houses opened, though some have shut down after the promised sponsorships, fame and payment never materialized, as Vox's Jennings wrote.
At TalentX, Senzer says they're looking at opening another home, and are in talks about a potential reality series. They have a big financial incentive to keep the party going as long as possible. After the city unplugged the Sway House in August, the erstwhile TikTok stars recently found a new sponsorin the video platform Triller, a TikTok competitor, which pays the rent and other expenses for a new Sway House in Bel Air in return for talent postings on their platform. That arrangement has "generated a significant amount of revenue for these guys and our business," he says. "It's hard to say it wasn't worth it."